Reform!
Presenter: Kameron Middlebrooks, Iowa Organizer
REFORM Alliance
May 19 — 11:45 AM – 1:00 PM
Plymouth Congregational Church, Des Moines
** in-person event **
---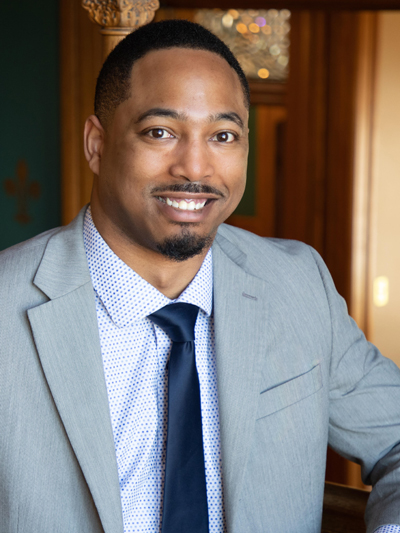 Iowans on probation often report lower levels of educational attainment than the general population, limiting their employment options and hampering reentry. Only 5-7% of Iowans on probation have more than a high school education. Nationally, approximately two-thirds of those on probation make less than $20,000 annually. Throw in the worker shortage facing our nation, there is a true disconnect in ensuring the success of those who are return citizens still on probation and the worker needs in communities big and small.
Join Interfaith Alliance of Iowa at Crossroads with Kameron Middlebrooks, Iowa Organizer for REFORM Alliance, to learn about the reentry issues facing those on probation and effective solutions to the problem.
About the presenter: Kameron Middlebrooks is a passionate civil and social rights agent of change. He began serving as a youth representative to NAACP National Board of Directors in 2008, where he served four years. Before joining the staff of the NAACP, he was a field organizer for the Barack Obama Presidential campaign in Des Moines. In June of 2012, at the age of 24, Kam took over as the Midwestern Regional Field Director of the NAACP, the youngest to ever serve in that position. As Regional Director, he organized a voter registration campaign that registered over 15,000 people of color across the Midwest. He actively engaged the Iowa-Nebraska state conference in talks with the Iowa Governor to streamline the process for felons to regain their right to vote. Kam left the NAACP in 2014 to start his own business venture. From 2014-2016 he operated a marketing and managerial firm, Equalizer Management Inc, which focused on integrated communication solutions for residential and business clients.
In 2017 Kam began working for Evelyn K. Davis Center as an Asset Development Associate, working one on one with small business and nonprofits with the goal of helping them build their organizations. In the fall of 2019, he transitioned to working for Iowa State University Extension and Outreach as the Minority Business Coordinator. There he served as an advocate and resource for African and African American small businesses and nonprofits across Iowa. He has also served as the Director of Community Impact for the Community Foundation of Greater Des Moines. In this position he oversaw grantmaking programs and provided support and leadership in various community conversations working closely with nonprofit leaders, grantmakers and community partners to advance regional goals.
Kam served on the Des Moines Civil & Human Rights Commission for five years as chair and helped to initiate a campaign entitled Bridging the Gap, a community centered, solution-oriented initiative to address community issues, improve community-government relations and remove systemic barriers, so that all Des Moines residence have the opportunity to achieve full potential. Kam, most recently had the pleasure of serving as Political Director for Deidre DeJear on her historic run for Governor of Iowa. Kam is currently Iowa State Organizer for the REFORM Alliance, an organization focused on reforming the probation, parole, and supervised release systems.
---
You may make your reservation to attend in-person by clicking on the "Register Now" button. Three brown bag lunch options are available: turkey sandwich, roast beef sandwich, and vegetarian sandwich; brown bag lunches are $12 each. Please note: You must pre-order and pay for your lunch by 12:00 PM on Wednesday, May 17. Late orders or walk-in requests for lunch will NOT be available.
If you have any issues registering, please email info@interfaithallianceiowa.org or call 515.279.8715.
Crossroads is a monthly gathering of the Interfaith Alliance of Iowa in Des Moines. It's an opportunity to learn, to participate in civil dialogue, and to discuss issues at the crossroads of religion and politics.
When
May 19, 2023 from 11:45 AM to 1:00 PM
LUNCH OPTIONS
| | |
| --- | --- |
| TURKEY SANDWICH brown bag lunch | $12.00 |
| VEGETARIAN SANDWICH brown bag lunch | $12.00 |
| ROAST BEEF SANDWICH brown bag lunch | $12.00 |