Fifty Years of Science: Victories, Limitations, and Challenges
Presenter: DR. WILLIAM FOEGE | Epidemiologist
OCTOBER 2, 2020 — 11:50 AM-1:00 PM
— online event —
---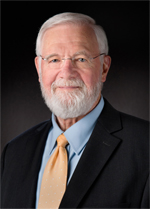 We are honored to host Dr. William Foege for Intersections on Friday, October 2! Distrust of science has become too common in our country for many. That distrust has an enormous impact on the success of stopping outbreaks such as COVID-19, immunizations, wearing masks, global warming, and more. Dr. Foege will talk with us about the impact of living in a time when science and facts are questioned in a society.
About DR. WILLIAM FOEGE: Dr. William H. Foege is Emeritus Presidential Distinguished Professor of International Health, Emory University, and a Gates Fellow.
An epidemiologist, Dr. Foege worked in the successful campaign to eradicate smallpox in the 1970s. He became Chief of the CDC Smallpox Eradication Program and was appointed Director of the U.S. Centers for in 1977. In 1984, Dr. Foege co-founded the Task Force for Child Survival, a working group for WHO, UNICEF, The World Bank, UNDP, and the Rockefeller Foundation.
Dr. Foege served The Carter Center between 1986-1992 as its Executive Director, Fellow for Health Policy and Executive Director of Global 2000. Between 1992-1999, he contributed to the Centre's work as a Fellow and as Executive Director of the Task Force for Child Survival and Development. Between 1999-2001, Dr. Foege served as Senior Medical Advisor for the Bill and Melinda Gates Foundation.
Dr. Foege has received many awards, including the Presidential Medal of Freedom in 2012. He holds honorary degrees from numerous institutions, and has written more than 125 professional publications.
---
You have selected to purchase a pre-packaged lunch from Close to Home Catering. Your meal will be available to pick up in the First Presbyterian Church parking lot (310 5th St SE, Cedar Rapids, IA 52401) between 10:45-11:30 am on October 2. All lunches must be pre-ordered and pre-paid. One you complete your order, you will receive a confirmation to ensure your name is on the list to pick up a meal. The cost for each lunch is $10. A vegetarian option is available. This month's lunch selection: roast beef muffuleta sandwich or cobb egg salad (vegetarian). Both will come with an autumn chopped salad as well as snickerdoodle cookies.
RSVP required by WEDNESDAY, SEPTEMBER 30, AT NOON, by clicking the "Register Now" button. If you have any issues registering, please email crintersections@interfaithallianceiowa.org or call 515.279.8715. 
Intersections is a monthly gathering of the Interfaith Alliance of Iowa in Cedar Rapids. It's an opportunity to learn, to participate in civil dialogue, and to discuss issues at the intersection of religion and politics.
When
October 2nd, 2020 11:50 AM through 1:00 PM
LUNCH OPTIONS
| | |
| --- | --- |
| LUNCH (with meat) | $ 10.00 |
| LUNCH (vegetarian) | $ 10.00 |