Mental Health Access Center: How we got here and what we're doing
Erin Foster, Mental Health Access Center Director for Linn County
FRIDAY, NOVEMBER 5 — 12:00-1:00 PM
— online event —
---
The Linn County Mental Health Access Center has been in the planning stage for the last 6.5 years and has now opened their doors. Learn about what a Mental Health Access Center is and how it will impact the community moving forward.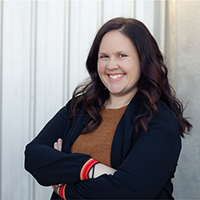 About the presenter: Erin Foster graduated from the University of Iowa with a Bachelor's of Science degree in Psychology in 2007. After graduation Erin was employed by the Area Substance Abuse Council as a Prevention Specialist. In 2013, she became the Director of Prevention for Linn, Benton, and Jones County. While at ASAC, Erin worked on community policy as well as provided trainings to businesses, schools, and the community on topics such as effective substance use prevention related strategies, Emerging Drug Trends, and specific opioid related topics including Naloxone use.
In December of 2019, Erin left ASAC and started her current role as the Mental Health Access Center Director for Linn County. She provides leadership in the implementation and coordination of services for people with urgent or crisis behavioral health needs including both mental health and substance use disorder crises.
Erin believes the Mental Health Access Center will write a new story for the community by providing both services, in tandem, for those in need.
---
Please register in advance for this event. After registering and prior to Intersections, you will receive an email containing information about joining the meeting.
Intersections is a monthly gathering of the Interfaith Alliance of Iowa in Cedar Rapids. Crossroads is a monthly gathering in Des Moines. They are an opportunity to learn, to participate in civil dialogue, and to discuss issues at the intersection of religion and politics.
When
November 5th, 2021 12:00 PM through 1:00 PM
Allow Online registration in CiviMobile
| | |
| --- | --- |
| Allow Online registration in CiviMobile? | Yes |