---

FRIDAY, NOVEMBER 6
11:50 am — 1:00 pm
(program begins at noon)
After the Storm:
Interpreting the Implications of the 2020 Election Cycle

RACHEL PAINE CAUFIELD

Professor of Political Science

Drake University
What are the results going to look like the day after election day? No one really knows. What we do know is that the results of the presidential, US Congress, and state legislature elections will have significant impact on the future direction of our nation and state. Join us for Intersections (just three days after the election!) as Rachel Paine Caufield, professor of political science at Drake University, discusses the results at the federal and state level and implications for both.
Because this is an online event, all are welcome to RSVP and join us, no matter where you live!
Have you taken advantage of the pre-ordered lunch yet? If you're in the Cedar Rapids area, you have the opportunity to order and pick up a pre-packaged lunch to enjoy at home on the day of Intersections. Lunches are prepared by Heidi, our Close to Home caterer, and we still need eight more lunches ordered this month in order to retain her services. Pre-paid lunches can be picked up in the First Presbyterian Church parking lot (310 5th St SE, Cedar Rapids) between 10:45-11:30 am the morning of Intersections. This month's lunch selection: turkey and cranberry sandwich (meat option) or southwest veggie wrap (vegetarian option). Both will come with a caprese pesto pasta salad as well as butter pecan cookies.
RSVPs to order lunch must be made by noon Wednesday, November 4.
Registrations to attend the virtual Intersections event can be made anytime. A confirmation email including the link to join will be sent to you once you register.
Intersections reservation AND pre-paid lunch: click here
Intersections reservation without lunch: click here
---
Online Scholar-in-Residence Lectures: Professor

Amy-Jill Levine
"Agreeing to Disagree: How and Why Jews and Christians Read the Same Scriptures Differently"
THURSDAY, NOVEMBER 5
7:00 PM
Zoom webinar
"Understanding Jesus and Paul Means Understanding Judaism"
FRIDAY, NOVEMBER 6
9:00 AM
Zoom webinar
Both programs will take place on Zoom with links posted on the Temple B'nai Jeshurun website as well as their Facebook page as the events near. They are presented as part of the Association for Jewish Studies Distinguished Lectureship Program. For Friday's program, it will be helpful to have a copy of Professor Levine's book, Jewish Annotated New Testament, which can be found at most online booksellers. The Friday evening event is sponsored by Christian-Jewish Connection, Temple B'nai Jeshurun, and Interfaith Alliance of Iowa.
Amy-Jill Levine is University Professor of New Testament and Jewish Studies and Mary Jane Werthan Professor of Jewish Studies at Vanderbilt (Divinity and A&S); she is also Affiliated Professor, Woolf Institute: Centre for Jewish-Christian Relations, Cambridge.
---
Count Every Vote!
Interfaith Alliance of Iowa is committed to the ideals of our nation that no matter what you look like, how much money you have, or where you come from, every voter must be given the opportunity to vote with ease and in a safe environment. And, every vote must be counted!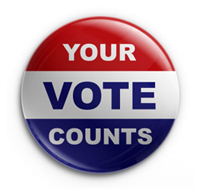 That's why Interfaith Alliance of Iowa is organizing the faith community across Iowa to protect the integrity of the election. Working in collaboration with state and national organizations, our message is:
Every voter should be able to vote.

Every vote must be counted.
Here is what we know:
We have great confidence in our election officials and our democratic process. So then it's just a matter of letting the process work.
Every eligible voter should be able to vote and every vote must be counted. When that happens, the people's voice will be heard.

It is going to take longer to count the votes and verify a winner in this year's election—and that's okay. Due to coronavirus, more people than ever before are voting absentee.

Absentee ballots take longer to count. That's just a fact. Some states can't even begin counting absentee ballots until after polls close on election night. Thankfully in Iowa, county auditors have already begun processing absentee ballots, moving us along faster in the process.

We need to be patient as we wait for the results in Iowa and with other states. What matters is that the vote of every voter is counted, which is a win for our democracy!
POST ELECTION DAY
Do you want to be part of the work from Election Day to inauguration? As people of faith and all beliefs, it is important to use our voices to ensure every vote is counted and to protect the results of the vote.
One thing you can do is join the organizing work Interfaith Alliance of Iowa is doing with the Count Every Vote Faith Network. The first step is to let us know you want to be part of the work; email connie@interfaithallianceiowa.org. The second thing is to attend some virtual trainings provided by one of the national Count Every Vote partner organizations. You can learn more and register to attend here. Let us know if you take one or more of the trainings.
COUNT EVERY VOTE FAITH NETWORK EVENT
Building Hope for the Future Vigil
A post-election vigil centering our shared values
Thursday, November 5
7:00 pm
Online link will be available Thursday morning. All are welcome.
#EveryVoteCounts
#CountOnUs
#DemocracyRising
---
Faithful Voices for Racial Justice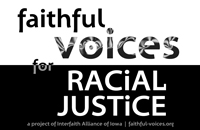 Our nation has much work to do in understanding and dismantling racism, the role religion played historically and today, and the continued privilege from which white people benefit through systemic racism. Faithful Voices for Racial Justice (FVRJ), a project of Interfaith Alliance of Iowa, was created to start conversations, promote learning, work together, and take action.
In this moment, it is critical to intentionally focus on the racism that has uniquely impacted the Black community in our country for centuries. The work must be respectful of and in consultation with leaders and members of the Black community, ensuring their voices are centered whenever possible.
Please visit the FVRJ website to learn more about the work we are doing, ways you can be involved, a calendar of events, as well as resources for adults, children, and youth for conversation and learning.
---
---