---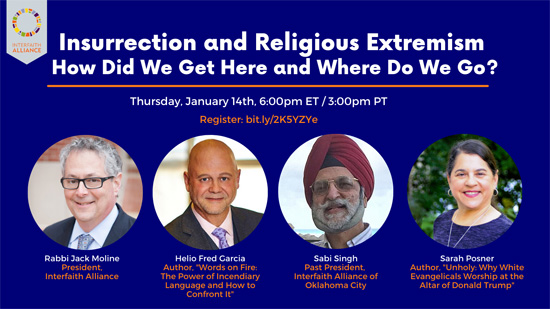 Insurrection and Religious Extremism:
How Did We Get Here and Where Do We Go?
THURSDAY, JANUARY 14
5:00 PM (Central Time)
Register: https://bit.ly/2K5YZYe
Rabbi Jack Moline, president of Interfaith Alliance, will moderate a conversation with leading experts on religious freedom and Christian nationalism on how we reached this moment and what it will take to realize our vision of a more inclusive democracy.

Panelists include Helio Fred Garcia, communications expert and author of "Words on Fire: The Power of Incendiary Language and How to Confront It;" Sabi Singh, community activist and past president of Interfaith Alliance of Oklahoma City; and Sarah Posner, journalist and author of "Unholy: Why White Evangelicals Worship at the Altar of Donald Trump."
---

FRIDAY, FEBRUARY 5
11:50 am — 1:00 pm
(program begins at noon)
Politics and Public Schools

MELISSA PETERSON

Government Relations Specialist,

Iowa State Education Association
The Iowa Legislature is back in session. One of the key issues this year (as in most years) is the education of the children in Iowa. Policy issues and the funding of our public schools are crucial debates every session, and in 2021, all conversation about schools will be done with consideration of the impact of COVID-19 and the pandemic. As with the past several years, there is the concern about passage of voucher or "education savings account" legislation diverting public funds to private education choices, as well as other harmful bills.
Melissa Peterson, Government Relations Specialist with the Iowa State Education Association, will join us for the February Intersections to discuss "all things education" in Iowa, the priorities of the Iowa Legislature, and the impact on Iowa's public schools.
Click here to RSVP for Intersections. All are welcome to attend. Registrations to join the virtual event can be made anytime. A confirmation email including the link to join will be sent to you once you register.
---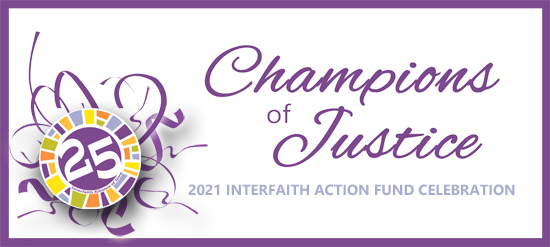 Champions of Justice: 2021 Interfaith Action Fund Celebration
MONDAY, FEBRUARY 22
6:00-7:00 PM
Facebook: @InterfaithAllianceIA
YouTube: Interfaith Alliance of Iowa
The Action Fund Celebration is the only fundraiser we hold each year to support our work at the Statehouse. The virtual format this year will allow us to feature some wonderful champions of justice, including legislators and likeminded allies. We will announce the champions in the next few weeks leading up to the event. And, we're excited to have Jackie Norris join Executive Director Connie Ryan as the co-host for the event!
Your support helps us fully fund the 2021 legislative advocacy work of the Action Fund. Multiple sponsorship opportunities available, and as a sponsor you will be recognized during the virtual celebration! Your response is requested by February 18 to be acknowledged during the celebration.
Thank you for your support to help strengthen our important work and voice for all Iowans!
---

Where do we go from here? Racial Justice in 2021
WEDNESDAY, JANUARY 13
7:00 PM
Register here.
You are invited by Peoples Unitarian Universalist Church, Cedar Rapids, to a presentation by Dr. Kesho Scott. Since the murder of George Floyd, Professor Scott has been traveling to small towns in Iowa to talk to white citizens about racism and the importance of moving people toward being actively and personally anti-racist. We hope you can join us in a conversation.
John Lewis: Good Trouble
JANUARY 15 – 29
Online Event
Free viewing courtesy of Beloved Community Initiative and others. Available to anyone with an Iowa IP address.
Dr. Martin Luther King Jr. Virtual Celebration – West Des Moines
FRIDAY, JANUARY 15
11:30 AM - 1:00 PM CST
Register for this virtual celebration here.
A celebration of the life and legacy of Dr. Martin Luther King Jr. January 18th is the official day of his life in celebration. The City of West Des Moines, West Des Moines Community School District, Des Moines University, City of West Des Moines Human Rights Commission, West Des Moines Historical Society, West Des Moines Chamber, and more are working on a variety of ways we can uplift his voice and highlight diversity, equity, and inclusion in 2021.
Annual Prayer Breakfast in Honor of Dr. Martin Luther King Jr. - Des Moines
MONDAY, JANUARY 18
8:00 - 9:00 AM
Register here.
This year opened opportunity to redefine and reinvest in community. Challenged in many ways by the pandemic, social change and the continued need for justice, the need for healing is deep in our lives. Social, personal, and emotional healing is at the center of this year's event. Register to hear impassioned speakers, music, and honor award recipients including our Commission Chair Kameron Middlebrooks as this annual celebration of community has been moved to a virtual setting.
Johnson County MLK Day of Service Virtual Celebration
MONDAY, JANUARY 18
10:00 AM
Online event
Forest Avenue Library Martin Luther King, Jr. Day Celebration – Des Moines
MONDAY, JANUARY 18
3:30 - 4:30 PM
Register here.
Forest Avenue Library is hosting its annual Martin Luther King, Jr. Day Celebration via Zoom! Civil rights activist Tricia Harris will present a program titled "Beloved Community and Six Principles of Nonviolence" and will participate in a Q & A after.
Ames/Story County MLK Celebration
MONDAY, JANUARY 18
6:30 PM
Facebook or YouTube
Join us for a virtual MLK Celebration to honor the life and legacy of Dr. Martin Luther King, Jr.
The live virtual event will be broadcast from the City of Ames YouTube channel and the Ames/Story County MLK Celebration Facebook page.
Dr. MLK Jr. Day Celebration – Cedar Rapids
MONDAY, JANUARY 18
7:00 PM
Facebook Live
St. Paul's United Methodist Church, Cedar Rapids, will host an annual celebration with music and speakers. The annual "Dr. Percy and Lileah Harris 'Who Is My Neighbor' Award" will be awarded to an adult and a high school senior who will be recognized for diligently working for justice in Linn County.
Johnson County MLK Event, We the People: Protest and Peace
MONDAY, JANUARY 18
7:00 PM
Online event
Why You Need a Class on Dr. Martin Luther King, Jr.
THURSDAY, JANUARY 21
6:00 PM (Central)
Register here.
Join us to hear Dr. Lewis Brogdon address the topic, "The Unknown King: Why You Need a Class on Dr. Martin Luther King, Jr." Dr. Brogdon is the Visiting Professor of Preaching and Black Church Studies and chair of the Department of Religion at Simmons College of Kentucky.
Living The Dream: Perspective, Privilege, And Personal Power – Iowa City
FRIDAY, JANUARY 29
12:40 PM
Register here.
In commemoration of Martin Luther King, Jr. Day, the College of Law and the UI Center for Human Rights welcomes Iowa Representative Ras Smith to speak.
---
---