---

Why Do We Have to Talk About Race?
FRIDAY, APRIL 2
12:00 - 1:00 PM
Presenter: ANTHONY ARRINGTON
Managing Partner, Top Rank Talent Solutions
Many organizations today are trying to take steps to address race relations post-George Floyd. In their efforts—whether sincere or not—it is a common misstep for these organizations to assume "improving race relations" and "diversity" means they will have adequately addressed racial or gender relations as long as they hire more women and Black people, offer a few training sessions, and celebrate a few holidays. This could not be further from the truth, and in fact may be more damaging due to the perception of being shallow and simply ticking the box. What leaders and organizations must be willing to do is dig deeper, to get under the hood of the issues together in a safe but uncomfortable space at times in order to really understand why they need to take these actions. This presentation will provide a basic foundation of the terms diversity, equity, inclusion, and engagement and how they must all work together, along with true self-reflection and accountability, in order to improve race relations of all kinds.
Please register in advance for Intersections. A confirmation email including the link to join will be sent to you once you register. All are welcome to attend.
---
- - - - - - - - - - - - - - - - - - - - - - - - - - - - - - - - - - -
Does your community or organization host an online forum and need a speaker?
Let Interfaith Alliance of Iowa know! We would love to connect and find out what topic might interest your group. Email connie@interfaithallianceiowa.org.
- - - - - - - - - - - - - - - - - - - - - - - - - - - - - - - - - - -
---
The American Purpose: A Web Series
from Interfaith Alliance
On this week's episode of The American Purpose, educator and activist Simran Jeet Singh joins Rabbi Jack Moline to discuss how we can become a more just nation that cares for and values one another. Tune in Wednesday at 1:00 PM ET: https://bit.ly/300tXph.
The American Purpose airs a new episode every Wednesday at 1:00 PM ET on Facebook Live. To learn more, visit: https://bit.ly/3jFqfdJ.
---

Harkin Institute Sussman Lecture
with Nikole Hannah-Jones
THURSDAY, APRIL 8
7:00 PM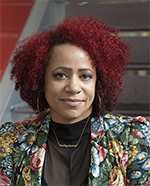 Pulitzer Prize-winning investigative journalist and Iowa-native Nikole Hannah-Jones will deliver the spring Sussman Lecture on April 8, as part of a community-wide dialogue about systemic oppression and racial equity.
Hannah-Jones grew up in Waterloo, Iowa, and found her passion for journalism while working for her high school newspaper. She covers civil rights and racial injustice as an investigative reporter for The New York Times Magazine and is creator of The 1619 Project, for which she won a Pulitzer Prize for Commentary in 2020. She is a co-founder of the Ida B. Wells Society for Investigative Reporting, a nonprofit that provides training and mentorship for journalists of color pursuing careers in investigative reporting.
---
---