What's Happening weekly forum
MONDAY, JUNE 14
12:00 PM
Forever Proud
Courtney Reyes, Executive Director, One Iowa
It's Pride month! What is Pride month, how did it start, and what does it mean to the LGBTQ+ community? Our executive director, Connie Ryan, will talk with Courtney Reyes, Executive Director of One Iowa, about all of that as well as what has been planned this year in communities across the state, especially given COVID. They'll also discuss the progress made by the LGBTQ+ community—as well as the set backs—since Pride began more than 20 years ago.
Join us on Facebook where you can post questions. Or, watch on our YouTube channel.
What's Happening is an online, weekly forum tackling hot topics and current events impacting everyday Iowans. Join Connie Ryan, Executive Director of Interfaith Alliance of Iowa, each Monday (except during the Legislative Session) at noon on Facebook as she talks with a guest speaker or community leader. During the conversation, viewers can post questions for Connie to ask the day's guest.
---

Save the Date
for our 25th Anniversary Award Celebration
MONDAY | AUGUST 30, 2021
Invitation and details to come.
---
Check out our new website!
Have you taken a look at our new website yet? We've been working diligently the past couple of months to create a fresh new digital look for Interfaith Alliance of Iowa, and we're excited to show you! Find us at interfaithallianceiowa.org.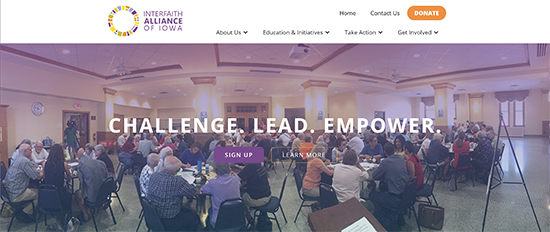 ---

Juneteenth resources and events around Iowa
Juneteenth (June 19th) is the oldest known celebration of the end of slavery in America. After the Emancipation Proclamation was issued on January 1, 1863, owners in many isolated areas kept word from the people they had enslaved so they would not flee. On June 19, 1865, some of the last enslaved people in America were freed when the news, at last, reached Confederate Galveston, Texas. Since that day, Juneteenth has been celebrated to honor the African Americans who built this nation.
EVENTS:
June 12-19: Iowa Juneteenth, Des Moines
June 12-20: African American Museum of Iowa, Cedar Rapids
virtual and in-person events offered; detailed schedule of events on the website
June 19: Iowa City Area Juneteenth Celebration
June 19: Mason City Juneteenth 2021
RESOURCES:
history, celebration
Juneteenth Learning for All Ages
a syllabus from St. James' Episcopal Church
worship resources
United Methodist Juneteenth Resource
worship resources
---
P

R

I

D

E

Celebrations
SUMMER, FALL 2021
Various locations
We celebrate LGBTQ+ Pride in June to honor the 1969 Stonewall riots in Manhattan, which saw members of the LGBTQ+ community fight back against harassment from the police in Greenwich Village in June 1969. But Pride can be celebrated anytime; here are a few opportunities around Iowa:

June 1-30 — DES MOINES — 30 Days of Pride
June 15 — NORTH LIBERTY — All Things Pride
June 21-27 — DUBUQUE — Key City Pride
August 27-28 — WATERLOO — Cedar Valley Pridefest
September 5-11 — AMES — Pridefest 2021
September 5 — CORALVILLE — Coralville Fall Pridefest
September 10-11 — QUAD CITIES — Quad Cities Fall Pride
October 1-2 — IOWA CITY — Our Pride We Will Maintain

If you know of other Pride events around Iowa, please contact Kristin to have them added to future newsletters.
---
---