What's Happening weekly forum
MONDAY, JULY 26
12:00 PM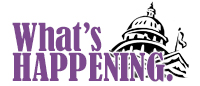 Ensuring the Sacred Right to Vote
Terese Grant, state president, League of Women Voters of Iowa
Most Americans believe voting is a sacred right that should not be infringed upon except when absolutely necessary to ensure the integrity of the voting system. And, that's where we get into trouble as a nation and in Iowa. How do we define what is necessary? Republicans in the Iowa Legislature have spent quite a bit of time this session and in years prior passing legislation they say help to make the system more secure. Progressive legislators and advocates believe the limitations in the legislation place restrictions on eligible voters which create unnecessary barriers and infringing on the right to vote, particularly people who already have difficulty casting their vote.
Terese Grant, League of Women Voters of Iowa state president, will join us for What's Happening on Monday, July 26, to talk about the right to vote and the legislation passed in Iowa that would infringe on that sacred right.
Join us on Facebook or on our YouTube channel.
What's Happening is an online, weekly forum tackling hot topics and current events impacting everyday Iowans. Join Connie Ryan, Executive Director of Interfaith Alliance of Iowa, each Monday (except during the Legislative Session) at noon on Facebook as she talks with a guest speaker or community leader. During the conversation, viewers can post questions for Connie to ask the day's guest.
---
---
The Supreme Stakes:
Rights Under Attack in Iowa and Across America
MONDAY, JULY 26
5:30 – 7:00 PM
online event
Supreme Stakes is a three-part series of events on reproductive rights under attack. This series is hosted by Interfaith Alliance of Iowa, Progress Iowa, and Planned Parenthood Advocates of Iowa. For information on the series, please visit SupremeStakes.org.
For the first event, local and national experts will detail the attacks against our reproductive rights. Speakers include Jen Ferris, National Advocacy Director for ProgressNow, and Rachel Paine Caufield, Drake University Profressor.
To make a Zoom reservation, click here.
To RSVP on Facebook, click here.
---
---

2021 Interfaith Alliance of Iowa Award Celebration
Monday, August 30
5:30-9:00 PM
RECEPTION 5:30 PM | DINNER 6:30 PM | PROGRAM 7:00 PM
Community Choice Convention Center Ballroom
833 5TH AVENUE, DES MOINES 50309
Visit Bending the Arc Toward Justice for 25 Years for more information and to register.
Meet our community speakers!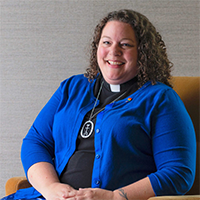 Rev. Brigit Stevens
Executive Conference Minister
Iowa, Nebraska, South Dakota, and Tri-Conference Ministries
of the United Church of Christ
The Reverend Brigit Stevens is an ordained minister in the United Church of Christ. Rev. Stevens has served as a pastor in rural Minnesota, a chaplain for law enforcement and a fire department, and now currently serves as the Executive Conference Minister for the Iowa, Nebraska, and South Dakota Conferences of the UCC. In 2020, all three of the conferences she serves claimed the designations of Open and Affirming and Anti-Racist Conferences in their denomination. The discernment that led to those affirmations was, as Rev. Stevens says, "only the beginning of naming our values. Now we really dig into the hard work of living them, so that some day they may be recognized as true." Rev. Stevens is an outspoken leader with progressive values, particularly interested in living her faith in ways that empower all of God's Creation to be celebrated and honored. Rev. Stevens reads books that challenge her, marches with strangers seeking justice, lectures her kids to turn off the lights and dismantle oppressive systems as they leave a room, and is looking for more friends and co-conspirators of what the late Rep. John Lewis called good and necessary trouble.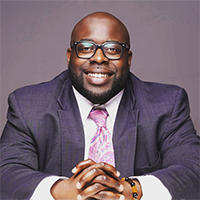 Pastor Rob Johnson
20/20 Vision Project, Director of Voter Registration
Rev. Rob Johnson was born and raised in the projects of Chicago by a single mother of three. He came to Des Moines to attend Drake University. Growing up his mother, Ms. Jaunice Johnson, taught him and his sisters the value of community. Rob took that to heart by becoming a community activist, and currently serves on multiple boards such as Iowa Juneteenth, Back 2 School Iowa, Des Moines Selma, a volunteer with Investing in My Future, and many others. Recently Rob was the National Church & Faith Outreach Coordinator for the Biden-Harris Campaign, overseeing a combined total of nearly 90,000 churches and faith leaders nationwide.

Rob is currently working with Deidre DeJear and the 20/20 Vision Project to help make sure our communities are educated about voting and the voting process. He and a team of advocates continue to push for racial, social, and economic justice and mental health issues facing our communities in the state of Iowa and nationwide. Rob pushes these issues on his three podcast shows: the Urban Impact Show, Faith & Politics, and Conversations with Rob Johnson. Rob always says his dream is to make his deceased mother proud.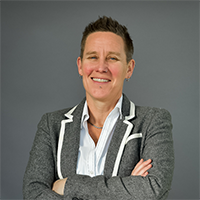 Rev. Dr. Jennifer Harvey
Award-winning author, public speaker;
Professor of Religion and Associate Provost of
Campus Equity & Inclusion, Drake University
Rev. Dr. Jennifer Harvey is a writer, teacher, and activist who has long been engaged in work for racial justice and white antiracism. Her books include the New York Times bestseller Raising White Kids: Bringing Up Children in Racially Unjust America and Dear White Christians: For Those Still Longing for Racial Reconciliation. Dr. Harvey has written for the New York Times, CNN and countless other publications and is a widely sought public speaker. She has appeared on nationally syndicated television and radio programs, including Good Morning America and CNN's Town Hall on Racism with Sesame Street, and as a guest on National Public Radio's "All Things Considered" with Michel Martin and "It's Been a Minute" with Sam Sanders. Dr. Harvey has been on faculty at Drake University for nearly 20 years and currently serves as the Associate Provost for Campus Equity and Inclusion. She is also ordained in the American Baptist Churches (USA).
---
---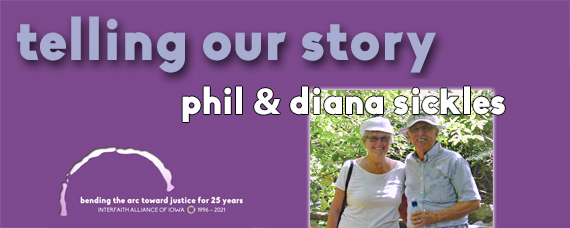 Interfaith Alliance of Iowa is a statewide, non-partisan organization working to protect religious freedom while ensuring it is not used to harm or discriminate, promoting equity and equality for all persons, and empowering progressive people of faith and no faith to use their voice in the public square. Celebrating our 25th anniversary this year, we are highlighting different Iowans who have connected with us and our work together Bending the Arc Toward Justice.
TELLING OUR STORY:
Phil and Diana Sickles
How did you connect with Interfaith Alliance of Iowa?
Diana and I are both retired from paying jobs but are really involved in trying to make the world a better place. Having belonged to a number of congregations (eight, not counting two that we belonged to more than once), we have spent over 50 years being involved with that concept and getting involved with racism, LGBTQ, hunger, justice — and on and on.
Our pastor at one point was going off the board of Interfaith Alliance of Iowa and asked if I would be interested in taking his place, and I said yes. I say yes to most things! That was the start of 13 years serving on both the c3 and c4 boards and it was one of the most enjoyable experiences of my life.
How have you been involved with social justice work, including with Interfaith Alliance of Iowa?
Church committees, Social Action boards, speaking at city council, school boards, state hearings. Almost anything to stand up for issues that need to be addressed by our presence.
Why is the voice of Interfaith Alliance of Iowa important to you?
Having a presence that speaks out of a different faith perspective than the "Christion nationalists" who try to define the issues in their darkness is critical. Interfaith Alliance of Iowa does that so well. Keep it up!!
What would you wish for the Interfaith Alliance of Iowa as we celebrate 25 years of Bending the Arc toward Justice?
To find a way to expand our presence to all the counties and provide a social media platform for all to be able to turn to for truth and caring for the "others" in our state who lack a voice at the table.
---
---