New Projects from Faithful Voices for Racial Justice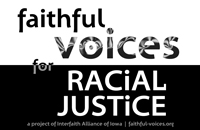 A mighty and righteous group of faith leaders has been meeting nearly weekly for more than a year to discuss race and racism in our state and nation, and how our faith informs our beliefs and actions. On occasion, the group has developed events and programming on particular racial justice topics. Over the last couple of months, three projects have emerged from the group.
We are very excited to announce the three projects developed out of the Faithful Voices for Racial Justice project and through the talents of the participating faith leaders. We encourage you to take a look at all three opportunities and to engage in the work by taking action with each.
Faithful Conversations about The 1619 Project
Much has been said about The 1619 Project from the New York Times, and some of it might even be true and helpful. However, much of it is uninformed and inaccurate — and perhaps just a bit politically motivated.
And so, we thought it would be worthwhile to study The 1619 Project from the lens of our own faith, whatever that might be. We know it may be uncomfortable, at least at first. What we are certain of is the conversation is worth having. And we should never shy away from difficult conversations that might help us learn.
Will you (and your community) take a chance with us to study The 1619 Project and to learn about our nation and its history from the perspective of Black writers?
We know not everyone considers themselves to be a person of faith or part of a faith community. We invite you in as well. Take a look at the materials and adapt them as you like to meet your needs and the needs of a small group of which you are part or that you form for this conversation. There are also great resources on the Pulitzer Center website and we encourage you to look there.
Beginning Monday, October 4, at 6:30 PM, Faithful Voices for Racial Justice will host a six-week study of The 1619 Project.
Each week via live stream on YouTube, a group of faith leaders will discuss a section of the writings from The 1619 Project — doing so from their own faith perspective. We encourage faith communities to host a small group(s) to read the sections ahead of time, watch and listen to the faith leader conversation, then hold their own conversation using the format and tools provided on the faithful-voices.org website.
The faith leader discussions will remain on YouTube so groups can access the videos any time convenient for them.
You can register to receive the live stream links here!
We hope you will organize a small group in your faith community to participate. Or, perhaps you are already part of a small study group and/or youth group that would like to participate in the series. Whether it is on Monday nights at 6:30 PM (don't forget to register to receive the live stream links!) or watching the videos at another time, it is a wonderful opportunity to enter into some good, rich, thought-provoking conversations on the history of race and racism in our nation and its impact on communities today.
Faith & Democracy
Faith Communities Hosting Candidate Forums [FIND IT HERE]
Did you know it is perfectly legal, and some would say very important, for houses of worship to encourage civic engagement in our communities, including becoming informed voters? Conservative congregations have been doing this for decades (and some progressive congregations, too). We believe progressive congregations should facilitate civic engagement in communities across our state (while staying within the law for 501c3 non-profits).

One way congregations and faith communities can encourage civic engagement is by sponsoring or co-sponsoring candidate forums for members and the public to attend. Houses of worship cannot endorse candidates. However, houses of worship can provide educational, public forums and information on important issues, and helping all community members become informed on the positions of the candidates.
Local elections for school boards and city councils are coming up on Tuesday, November 2! Did you know local elections have some of the most important, direct impact on communities each and every day?
Faithful Voices for Racial Justice faith leaders have developed easy to use tools for hosting candidate forums. We encourage congregations to work with other like-minded congregations and civic organizations in their area to host either a school board forum or a city council forum (or one of each! But don't mix them together!).
Let us know if your faith community schedules a forum!! We would love to include your event on our website and in our weekly e-newsletter.
Questions for Candidates on Race and Racism [FIND IT HERE]
Faithful Voices for Racial Justice faith leaders have developed a list of questions that should be asked of any candidate running for office, particularly school board and city council candidates.

We know there is an effort across Iowa to erase any public conversation in our public schools or local municipalities about race and racism and its impact on communities of color. We think this is short-sighted and, quite frankly, wrong. We want to know where candidates stand on issues of race and racism and if they are willing to be part of an honest, open conversation.

Check out the questions and please ask candidates running for school board and city councils. You can ask the questions at the candidate forum your faith community hosts (see above for details!), at a forum hosted by another faith community or civic group, at a public event, or even by email to the candidates!
Want to learn more about the Do's and Don'ts for houses of worship engaging candidates for public office?
More information, including further guidelines for houses of worship hosting forums and/or engaging candidates for public office can be found at Interfaith Alliance, our national office.
Conversation Starters with Children and Youth about Race
Sometimes it is difficult to know how to talk about race and racism with your children, grandchildren, or kids in your congregation's youth group. How do you bring up issues of racism? What questions can create an honest, meaningful conversation?
What about moments when you are on a family trip or having dinner (or really anytime with a youth group!)? They are perfect opportunities to engage in a good, thoughtful conversation — and to really listen to what the children and youth are thinking.
Our Faithful Voices for Racial Justice faith leaders brainstormed some questions to help you initiate conversations with youth, and some simpler questions for younger children. You'll find those conversation starters in multiple formats for your convenience on the FVRJ website.
---
---
We're hiring!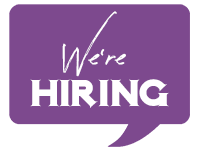 DIRECTOR OF DEVELOPMENT AND COMMUNITY ENGAGEMENT
The Director of Development and Community Engagement will work with the Executive Director to promote the mission and goals of the organization through leadership in the areas of fund development, community engagement, and program management.
Please click here for more information.
---
---
What's Happening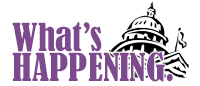 MONDAY, SEPTEMBER 27
12:00 PM
Public Education: The Foundation of our Democracy, or not?
Mike Beranek
President, Iowa State Education Association
Public education is the foundation of our democracy. Right? You've heard that time and time again most of your life. But, is it really?

Things declared as foundational should be of the highest priority and protected from harm by those who make decisions. Quite simply, that is no longer the case when it comes to public education in Iowa for so many extreme lawmakers as well as parents focused inward rather than on the common good.

Public education, our public schools and school boards, public school teachers, administrators, and staff, and our public school children are taking hits on so many fronts. Health and safety because of unscientific fights regarding COVID and mask mandates. Battles with untrained lawmakers and community members regarding best practices and inclusive curriculum, including how or whether public schools should talk about race and racism. Law makers who consistently and intentionally underfund public schools and divert public dollars to private choices. Candidates running for school boards across the state who don't actually believe in the common good of public education and are running on extreme agendas that will impact all students if elected.

Join us for What's Happening this Monday, September 27, at noon on Facebook Live or YouTube as we talk with Mike Beranek, President of the Iowa State Education Association, and break down all of the issues chipping away at the foundation of our democracy — public education — in these troubled times.
Join us on Facebook or on our YouTube channel.
What's Happening is an online, weekly forum tackling hot topics and current events impacting everyday Iowans. Join Connie Ryan, Executive Director of Interfaith Alliance of Iowa, each Monday (except during the Legislative Session) at noon on Facebook as she talks with a guest speaker or community leader. During the conversation, viewers can post questions for Connie to ask the day's guest.
---
---

What Works, What Doesn't, and What's Next for Iowa's Judicial Selection System: A Panel Discussion
How do we safeguard Iowa's merit-based judicial selection system – the cornerstone for our fair courts since 1962 – while still assessing the system's fairness and effectiveness moving forward for future generations?
A distinguished group of Iowans will wrestle with this question during a special presentation by Justice Not Politics, Drake University Law School, and the Drake Constitutional Law Center.
The panel discussion will be held from 4:30 to 5:45 pm on Wednesday, September 29. Due to COVID-19 restrictions, the public is invited to follow the discussion via live stream at Facebook.com/JusticeNotPolitics. Students and Drake University faculty may attend in person at Cartwright Hall.
For more information, contact Connie Ryan at connie@interfaithallianceiowa.org.
Full details here: https://bit.ly/3zvQNEp
---
---

Two Faces of Religion in World Politics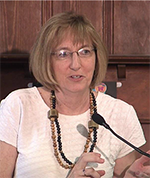 LYNDA K. BARROW
Professor of Political Science, Coe College
FRIDAY, OCTOBER 1
12:00 — 1:00 PM
virtual
People have very different views about religion's role on the world stage. Some see it as a source of conflict, others as a force for peacemaking. Still others say it is simply irrelevant. Who's right? We will explore this question by looking at cases and trends behind the front page news.
Please register in advance for this event. After registering, you will receive a confirmation email containing information about joining the meeting.
Read more about our presenter on our website.
With the rise in COVID cases across the state, including Linn and Polk Counties, we are committed to being consistent—even if the decision is difficult—and putting the health and safety of our communities first. As a result, Interfaith Alliance of Iowa will be moving Intersections (and partnering with Crossroads) to virtual presentations for the foreseeable future. Thank you for understanding and please stay safe and well.
---
---