---
---
Meet our new staff person!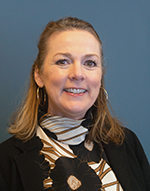 We want to officially welcome Lori Lane as Director of Development for Interfaith Alliance of Iowa!
Lori has had a long career as a nonprofit administrator, primarily in the arts and culture sector, and across three states. As a volunteer, she has been a vocal advocate for quality public schools and fresh food access and other social equity issues. Lori was previously the executive director of Cedar Rapids Opera, and currently sits on the boards of the Iowa Women's Foundation and Harmony School of Music (Cedar Rapids).
A native of Waterloo, Lori's eyes were opened at an early age to the imbalance of opportunity which arises from disparity in representation within decision-making bodies. Regardless of location, professional or family engagement, it has been her priority to always serve the greater cause of fair and nondiscriminatory public policy as a voice within the public discourse. She is thrilled to be serving Interfaith Alliance of Iowa where this cause is the organization's mission.
You may reach her directly via email. We're so glad you're here, Lori!
---
---

All things politics in Iowa:
A conversation with Art Cullen
FRIDAY, JANUARY 7
12:00 PM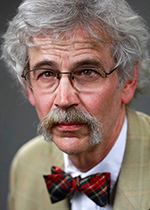 Art Cullen, Editor, The Storm Lake Times
Art Cullen has been the editor of The Storm Lake Times for more than three decades, and he's seen a lot of politics (and politicians) across Iowa in those times. A recent documentary on PBS highlights Cullen's passion for good journalism and the importance of small town newspapers to our democracy. Indeed, it is the free press that shines a light on the darkness and the promises of our democracy. It provides an avenue for its citizens to be informed and navigate with knowledge, including the politics embedded so deeply in our society.
Join us for Intersections/Crossroads on Friday, January 7, at noon on Zoom for a conversation with Art Cullen. You will not want to miss this one.
Please register in advance for this meeting. After registering, you will receive a confirmation email containing information about joining the meeting.
---
---
Petition requests amendments
to Iowa's new voting laws
The League of Women Voters of Iowa and eight Iowa-based co-sponsors—including Interfaith Alliance of Iowa Action Fund—will present petitions to the leadership of the 89th General Assembly at Iowa's Capitol. The petition, which contains signatures of Iowa voters, urges legislators to repeal sections of the newly-enacted voting laws.
Iowa's new voter laws make voting harder, disqualifies voters more easily, shortens the voting time by 31%, makes elections more difficult to administer, and invites interference by political parties in elections. Registered voters can sign the petition online.
Co-sponsors of the petition include: League of Women Voters of Iowa; Common Good Iowa; Des Moines Chapter, The Links, Incorporated; Episcopal Diocese of Iowa; Iowa Chapters of Delta Sigma Theta. Inc.; Iowa Coalition Against Sexual Assault; Iowa Federation of Labor, AFL-CIO; Interfaith Alliance of Iowa Action Fund; and Sierra Club Iowa Chapter.
---
---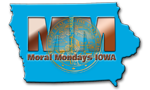 While our weekly "What's Happening" episodes have paused for the upcoming Legislative Session, be sure to keep Mondays at noon open on your schedule and join us for Moral Mondays IOWA. Moral Mondays IOWA (MMI) is a collaborative project designed to highlight the progress at work in the Iowa legislature. A coalition of more than 30 progressive Iowa organizations, MMI proactively highlights legislation that spans a range of progressive issues and works for the advancement of Iowa values like equality, fairness, and justice. You can learn more about MMI on our website.
---
---