May 15, 2020
Inspired highlights the stories from across Iowa, and sometimes from other parts of the country, that show what it means to be community, actions that are inspiring, or how we are inspired by others. Inspired shines the light on the good and give us all a bit of hope. If you learn of a story that is inspired, please send the information or link to inspired@interfaithallianceiowa.org.
Inspiring Stories. Storytellers are a unique breed. They can weave words and movement to catch and captivate our imagination. The Storytellers Project from USAToday has given a platform to thousands of people across the nation to tell their stories. Those events have always been in person, held in intimate settings such as Hoyt Sherman Place in Des Moines.
In these COVID-19 times, The Storytellers Project is reimagining itself to bring the storytellers and their narratives into our homes. Each show will feature five Americans from across the country who tell a true story affirming our most deeply held values as a nation—belonging, perseverance, compassion, and love. We believe that is inspired.
Democracy in Action, Safely. Voting is one of our most sacred rights and actions in our nation. Whether voting for school board member, senator, or president, most Americans take voting seriously. So, what to do during a pandemic when going to the polls could place our health at risk? Iowa's Secretary of State has taken proactive steps to ensure every registered voter can vote from the safety of their homes through an absentee ballot. We are including links that provide good information on how you can safely vote prior to the primary on June 2. We hope all Iowans who can vote are inspired to do so.
Faith Leaders Urge Safety. There is always a lot of buzz when a national elected official comes to town, as was the case when Vice President Mike Pence announced he was coming to Iowa last week. Concern began to surface when information emerged he was visiting in part to urge churches to re-open their physical buildings and would be meeting with a select group of faith leaders, most of whom were conservative, evangelical pastors. We were grateful for the denominational leaders who spoke out against places of worship opening up too quickly. And, we were inspired by Rabbi David Kaufman of Des Moines, the only non-Christian invited to the conversation, who stood and respectfully told Vice President Pence it was too soon to open houses of worship. Kudos to all Iowa faith leaders who are focused on the health and safety of their members and their neighbors as the priority.
Join us next week for...
What's Happening. | Mondays at noon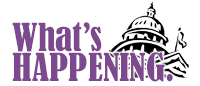 Iowa has a broad diversity of faith communities, much different than what was on display during Vice President Mike Pence's recent visit to Iowa. A panel of leaders from different faith traditions will join us on What's Happening to talk about COVID-19 and the impact on faith communities. Why are most faith communities choosing not to meet in-person yet? What plans are they developing for when they do gather again? How are communities practicing their faith differently in these times? And, what did they think about the Vice President urging churches to start meeting again without a diverse representation of Iowa's faith community in the room?
Join us on Facebook Live this Monday, May 18!
---