Iowa's Primary is June 2, 2020
Have you voted yet—or made arrangements to do so? All absentee ballot request forms must be received by your county auditor by 5:00 pm this Friday, May 22. Find a printable absentee ballot request form here and a link to your county auditor's address.
---
---
Faith & Democracy: Conversations with Candidates for US Senate
Interfaith Alliance of Iowa has interviewed all four Democratic candidates for the US Senate, and you'll want to hear their responses before making your decision for the June primary! Visit the Faith & Democracy page of our website for the links to each interview.

---
---
What's Happening.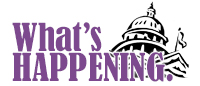 What's Happening. is an online, weekly forum tackling hot topics and current events impacting everyday Iowans. Join Connie Ryan, Executive Director of Interfaith Alliance of Iowa, each Monday at noon on Facebook Live as she talks with a guest speaker or thought leader. During the conversation, you can post questions for Connie to ask the day's guest.
There will be no What's Happening this Monday, Memorial Day. Join us on the Interfaith Alliance of Iowa Facebook page on June 1 for our next segment!
---
Inspired

In these last few weeks, you may have witnessed an individual or group using creative measures to build a connection—for example, reaching out to people who are particularly isolated through various technologies.
We'd like to highlight those positive stories in our new weekly email, Inspired. Each Friday we'll share examples of what it means to be community and how our actions can inspire—or are inspired by—others.
Do you know of an individual, an organization, or a community (faith or otherwise) going above and beyond? Please nominate them by sending an email to inspired@interfaithallianceiowa.org.
We're all in this together.
---
---

Meet Your Neighbor: Rev. Eric Daishin McCabe
WEDNESDAY, MAY 20
3:00 - 3:50 pm
Zoom online event (see below to RSVP)
Rev. McCabe teaches at the Pure Land of Iowa and resides with his wife, Reverend Sara Jisho Siebert, and their son, Malcolm. He will offer a guided meditation from the Buddhist tradition. The meditation will facilitate awareness of the Earth and our intimate connection with it. You can join Daishin on Wednesday, May 20, by visiting Iowa Interfaith Exchange on Facebook. Join us LIVE on this page and post your questions and support in the comments section for Q&A at the end of the session.

Learn more about Rev. McCabe here:
https://www.cultureall.org/learn/cultureall-ambassadors/eric_mccabe_web/.

The Meet Your Neighbor Series is a collaboration of Comparison Project at Drake University​, CultureALL​, Interfaith Alliance of Iowa​, and DMARC. Each Wednesday at 3:00 pm we'll host another neighbor on Zoom; you may RSVP by emailing Sarah Trone Garriott at stronegarriott@dmarcunited.org or Stacey Kimberlin at stacey@culotureall.org.
---
More Guns: Impact on Families in a Pandemic | A Panel Discussion
THURSDAY, MAY 21
4:00 - 5:00 pm
Gun sales are on the rise at an alarming rate in the midst of the pandemic. Families are under tremendous stress and adding more guns to the situation is a dangerous recipe for domestic violence, suicide, and children at home with access to firearms. What is the impact and what can we do to stop this trend?

Guest panelists will focus on the issues of increased access to guns and suicide, domestic violence, and guns in the home with children.

• Anne Starr, CEO, Orchard Place
• Laura Hessburg, Director of Public Policy, Iowa Coalition Against Domestic Violence
• Joe Gorton, Iowa Lead Organizer, Brady
This Facebook Live event is hosted by the We Can End Gun Violence Iowa organization.
---
---